Custom imprinted cowbells make great wedding favors! Guests ring them when the couple leaves the church and/or at the reception for the couple to kiss. Sure beats birdseed or bubbles!
Wedding bells from Cowbell.com are perfect for country themed weddings, sports fans, athletes, cowboy/cowgirl, dairy farmers, MSU graduates, musicians, and Saturday Night Live enthusiast couples. You can even make up your own tags with a
Wedding Bell Poem
.
It's a terrific way to "ring" in an old tradition for the bride and groom to kiss!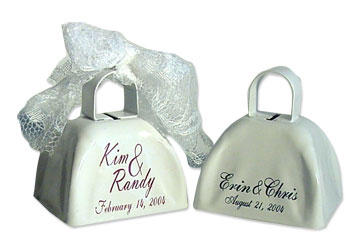 While we often engrave MOEN Bells (left) as gifts, the most popular bells for wedding favors are our imprinted WHITE BARGAIN BELLS. So popular, that we've made up a package to make things extra easy.

Bargain Bells (above and below) have a more delicate sound than the MOEN or Bessie Bells, but it's a good sound, not wimpy. (Check out the different rings!) They measure 3" high from the bottom of the bell to the top of the handle, 1-1/2" across the top, and just under 3" across the bottom.
Here are some different Wedding Bell options:
Use plain bells, or decorate them at a shower or other get-together. Or, you can have us imprint your names and special date in your choice of ink colors and font styles. You can purchase Plain or Imprinted Bells with PayPal on-line or fax in an order form. (The lace bow is an example of what you can do.)
If you want some help, give us a ring! 415.924.8663.
Case of 50

$95 per box

($1.90 each)

Case of 200

$350 per case

($1.75 each)

Measurements: 3" high from the bottom of the bell to the top of the handle, 1-1/2" across the top, and just under 3" across the bottom.
---
The imprinted wedding bell combo includes a one-color imprint on one side and the set up fee. After your order is placed, we will contact you for the bride & groom's names and wedding date; plus selected ink color and type style.
You can also include that information in the "notes" section in PayPal, or send a second email. You'll receive an email proof to approve before your wedding bells are imprinted.
White Imprinted Wedding Bells

Case of 50

$168

Case of 100

$288

Case of 150

$418

Case of 200

$538
INK COLORS AND TYPE STYLE
You can name a basic color (navy, burgundy, gold, black, pink, etc), or a Pantone Matching System color number. With a Pantone number, we'll mix the ink and match the color as close as possible. Please include the color with the number, for example PMS 267 Purple. Here's a PMS color chart. Also found at http://www.cowbell.com/colorchart/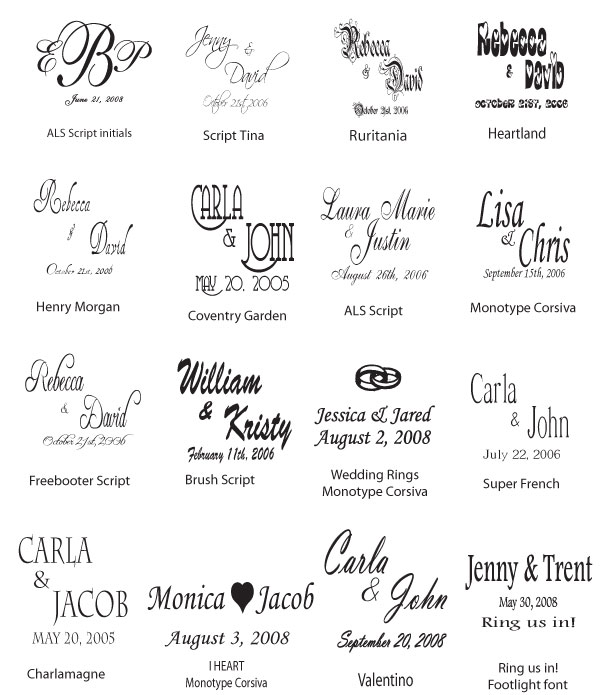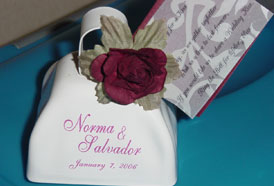 WEDDING BELL DECORATING TIPS

You can save money doing it yourself,
or save time having us imprint them!
Or just plain bells to save both!
All three options will create a FUN,
festive atmosphere on your big day!

Bows - Cut strips of lace to make bows, it's less expensive than ribbon and makes a fluffier bow.
Pens - Try metallic ink pens that write on metal (used in model building). They are easier to use and less messy than paint. Just give them plenty of time to dry.
Bling - You can even glue on "jewels" with a glue gun.
Supplies - Check out JoAnne Fabrics for lace, Michael's for different pens that write on metal
Table tent cards or bell tags - Make a folded card with a poem to go on each table at the receiption. Or, use the bells as place cards, or place card holders. Tie a poem card (tags) on each bell and have friends hand them out after the ceremony.

Wedding Bell Poems

RING FOR A KISS
Today, as we gather together,
wish us a love to last forever.
If you would like us to share a wedded kiss,
ring the bell for lifelong bliss.


BELL SALUTE
This bell salutes the Bride and Groom
and the Joy that fills the room.
Ring it loud, when they are near,
so that all may hear
the pledge of love they hold so dear.

JINGLE
I'm a little jingle bell
I'm here to wish the couple well!
Shake me, ring me loud and clear
When you see bride & groom appear.
My tinkling sound is here to convey
your love and good wishes on their special day!
Bring me along to the reception too
So they may share a kiss for you!

WEDDING BELLTOAST
May laughter and joy fill this room
as we toast the bride and groom.
Please take this little Wedding Bell...
Ring it loud and ring it well.
With each sound they will show their bliss
by sharing in a Wedding Kiss!!
TRADITIONS
Taken from The Traditional Irish Wedding by Bridget Haggerty
* Make-up bells. The chime of bells is thought to keep evil spirits away, restore harmony if a couple is fighting, and also remind a couple of their wedding vows. Giving a bell as a gift has become an Irish tradition. You could also have your greeters hand out tiny bells to your guests to ring as you process. (You might want to let them know when they're supposed to be rung - perhaps mention it in your program along with an explanation of the custom). Guests could also ring their little bells at the reception in lieu of clinking glasses.

More on this Celtic tradition:
Ringing the Bell of Truce is a custom that can be performed as a part of the wedding ceremony. A bell is blessed and then presented to the bride and groom by the officiant. The couple is then asked to give the bell a good hardy ring, while thinking lovely thoughts of each other and, most importantly, of their furture together. The bell is then kept at home as a reminder of the couples wedding day. When arguements arise, the bell is put to its intended use. One of the quarreling couple should ring the bell to call a truce in the argument. The tinkling sound will remind the couple of their wedding vows and conjure up the happiest memories from their wedding day.